Dr. Brooke Jones-Cannon
DR. BROOKE JONES-CANNON is the daughter of Dr. Holsclaw-Jones and Randy Jones, the founders and owners of the private practice.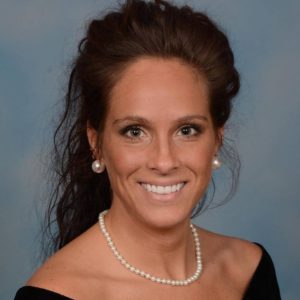 Dr. Jones-Cannon is married to Ethan Cannon, past TAOP president and a Certified Optician who also works in the practice.
Dr. Cannon and Ethan have two beautiful children Karsen and Karter Cannon. Dr. Cannon was raised in Elizabethton, TN, and graduated from Elizabethton High School in 2009. She was the varsity cheerleading captain, the color guard captain, a member of the women's tennis team, and a dancer at a local studio during her time at EHS.
Dr. Jones-Cannon graduated Cum Laude with a Bachelor's in Pre-Professional Health and Exercise Science from Austin Peay State University, where she was also the captain of the D1 Large Coed competitive cheerleading team. Dr. Cannon received her Doctorate of Optometry from Southern College of Optometry in 2018. During her time at SCO, she completed an extern rotation at Joint Base Charleston, SC Airforce Base and also spent some time providing eye care at the Naval Weapons Station in Charleston. She completed her second extern rotation learning from and practicing alongside Dr. Donny Reeves, a Johnson City, TN Ophthalmologist who specializes in cataract surgery.
Dr. Jones-Cannon practices a full scope of optometry, including ocular disease, surgical pre-and post-op management, low vision, and vision therapy. She is a member of the Tennessee Association of Optometric Physicians as well as a member of the American Optometric Association.
Dr. Cannon enjoys spending time with her new baby, working out, wakeboarding, traveling, and hanging out with her family and siblings, whom she is very close with. Dr. Cannon attends C Street Church of Christ in Elizabethton.
Dr. Cannon has a sister, Casey, who is also completing her doctorate degree in optometry at NOVA Optometry School in Ft. Lauderdale. Casey plans to move back home after graduation and work alongside her sister and mother in the family practice. She also has a brother, Alex, who is in pursuit of a career in physical therapy at Miami University.