Dr. Tammy Holsclaw-Jones
DR. TAMMY HOLSCLAW-JONES is a 1988 graduate of southern college of optometry.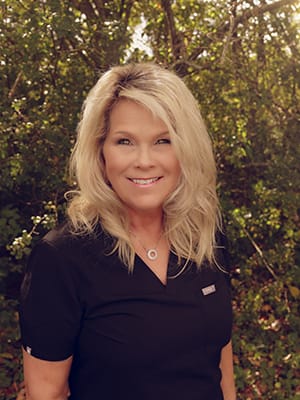 Dr. Holsclaw-Jones attended ETSU and the University of Tennessee for her undergraduate studies. She is a member of the American Optometric Association (AOA), Tennessee Association of Optometric Physicians (TAOP), and currently serves as a Trustee with North East Tennessee Society of Optometric Physicians (NETSOP). She previously served as secretary, vice-president, and president of NETSOP. Dr. Jones is currently a member of the Contact Lens Society, a past board member of United Way, and a former Lions Club member. She has obtained licensure to practice optometry in Tennessee, Florida, Texas, And Virginia. Dr. Holsclaw-Jones was awarded the Young Optometrist of The Year which she considers one of the greatest honors of her profession.
She practices all aspects of optometry including enhancing the appearance and function of the eyelids and adnexa with radio frequency (RF) Tempsure, lesion removal, contact lens diagnostics and fittings for cosmetic wear as well as ocular surface disease, and comanaging cataract and laser surgery. Dr. Holsclaw-Jones wholeheartedly believes keeping up to date with new technology and the latest procedures has played a major role in her career achievements and becoming a successful optometrist.
Dr. Holsclaw-Jones is the daughter of the late John and Donna Holsclaw, both of Carter County, TN. She is an active member of the Elizabethton Church of Christ.
Dr. Jones is married to Randy Jones, a licensed optician and the co-founder of the practice. Together Randy and Dr. Jones have owned and operated the business for over 30 years. They recently incorporated their oldest daughter Brooke (Dr. Jones-Cannon) into the family business as the second and only additional practicing optometrist. Dr. Holsclaw-Jones has another daughter, Casey, who is also pursuing a career in optometry, and plans to join the family practice as the third optometrist upon graduation from NOVA Southeastern University School of Optometry in 2022. Dr. Jones and Randy's third child and only son, Alex, is a recent graduate from Milligan College. He is currently attending Miami University in pursuit of becoming a physical therapist and wants to incorporate his future expertise into the vision therapy / sports vision therapy aspect of the family eyecare business. Dr. Holsclaw-Jones has two beautiful grandchildren Karsen, and Karter.